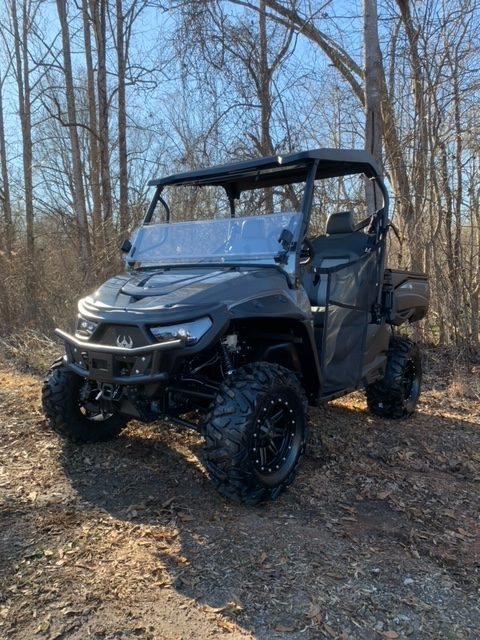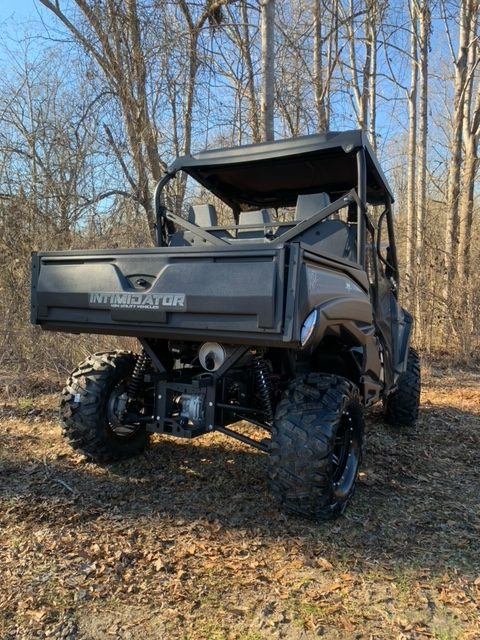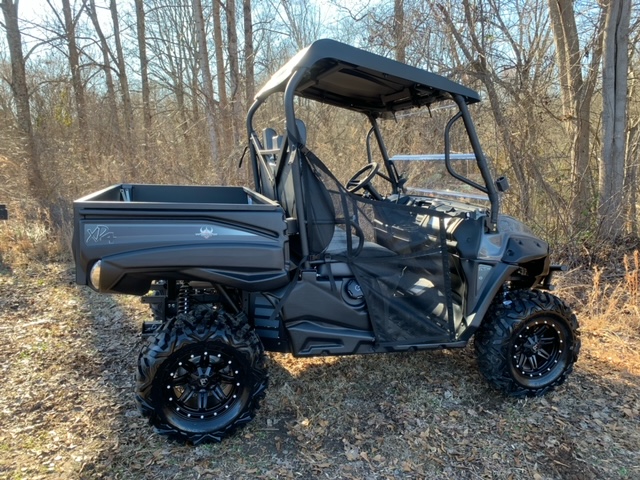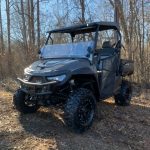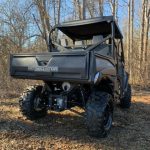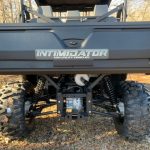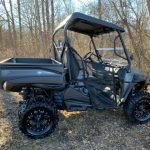 Year:
2023
Condition:
New
Make:
Intimidator
Power Type:
Gas
Stock #:
2740
Model:
Classic 750
Location:
Boiling Springs SC
Color:
Gray
Brake Lights
Dash Tray
Floor Mat
Front Brush Guard
Seat Belts
Side Mirrors
Utility Bed
Designed to help carry the load for work, the Classic series is built tough and is able to take on any task that's asked of it. Choose your engine preference, 1000cc Kohler® Diesel or 750cc Kohler® Gas, to create the best vehicles for your needs.
The Classic features include: Large Easy to Dump Bed, Tilt Steering, 4" Full Color In-Dash Display, Built-In Winch Mounting Plate, Steel Front Bumper, and Max Speed 35 mph.
FRAME & SUSPENSION
These heavy-duty rails, roll cages, oversized a-arms, and other features make your UTV extremely durable, not only putting your mind at ease but preventing costly repairs down the road. These long-lasting parts help keep occupants safe in the event of an accident. 
STEEL SKID PLATE
Protect the underside of your UTV against brush, rocks, and mud with the standard steel skid plates on all Intimidator UTV models. Most companies provide a plastic version or no skid plate at all. We include it as standard, saving you time, money, and frustration. 
CONTINUOUSLY VARIABLE TRANSMISSION
The CVT in Intimidator UTVs have been manufactured and tuned in a way that eliminates the concern about prematurely breaking or wearing out belts. We put premium CVTs in our units to maximize belt life and performance, so you do not have to spend time and money replacing belts. 
LOCKING REAR DIFFERENTIAL
By incorporating an oversized rear differential with a push-button locking feature, performance is greatly enhanced. While the Locking Rear Differential is not engaged it will allow the vehicle in yards without tearing up the grass. Engage the Locking Rear Diff and 4WD for use in mud or loose terrain for maximum traction and fun!
AUTOMOTIVE PLASTICS
Our plastics are dyed all the way through and are not painted. This helps prevent peeling, flaking, or fading. It also makes it easier to buff out any scratches you may get. Thicker and stronger than the competition it is meant to stand up for years of use. 
ROHVA CERTIFIED ROLL CAGE
Our ROHVA (Recreation Off-Highway Vehicle Association) certified Roll Cage adds peace of mind and stability when riding in any side by side. Made from 1.75″ diameter steel tubing, this creates a protective frame around both driver and passenger. 
HEAVY DUTY DISC BRAKES
All Intimidators come with our automotive-grade brakes. These oversized systems are designed to make stopping on a dime a breeze. 
2 INCH REAR RECEIVER HITCH
When towing is a necessity, worry about one less thing with the standard 2″ Receiver Hitch. Rated for towing 2,500 lbs (GC1K Series) and 2,100 lbs (Classic Series), there is plenty of power to haul whatever is needed.